Bushnell Tour V3 Slope Laser Rangefinder Review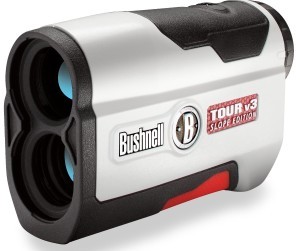 The Bushnell Tour V3 Slope Edition is an enhancement upon the brand's previous Bushnell Tour V2 version. It offers the same 5x magnification and range of 5 to 1,000 yards. PinSeeker mode allows the user to easily distinguish the target from objects in the background.
The Tour V3 Slope Edition also uses the company's famous JOLT technology to alert the user when the target has been locked by offering short bursts of vibration to confirm acquired targets. Due to its slope compensation feature, it is not legal for tournament play. Use this Bushnell Tour V3 Slope review to determine if the unit matches your personal needs.
Pros
Reasonable Price: Considering its features, including JOLT technology, PinSeeker mode and slope compensation, the unit can be found for less than $400.
Rainproof: The Bushnell Tour V3 Slope Edition is constructed to resist damage from precipitation.
Cons
Magnification: The unit features a 5x magnification that may be useful, but many devices offer a least 6x magnification.
While useful, JOLT technology does not always operate. Even if the device has properly ranged the target, the JOLT technology will not engage if the unit has not locked on
---
Click Here for Pricing, Pictures and Reviews on Amazon.com
Ease of Use
The Tour V3 JOLT Slope is a vertically-held device weighing 7.4 ounces without its carrying case, making it quite similar to other vertically-oriented devices. Coming in an average size for its class, it measures 4.3 x 2.8 x 1.6 inches. Held in a plastic shell, its exterior also features rubber areas to facilitate gripping.
There is one function button on the rangefinder located on the top of the unit. This button is used to turn the device on, fire the laser and adjust settings such as JOLT feature and yards or meters distance.
Features
PinSeeker mode locks on to the closest target within view, helping distinguish flagsticks and other targets from background objects. The laser also has a scanning feature, while not defined, distances will update as the user pans across a landscape. The laser can fire for 3 to 5 seconds before it acquires its target and will continue to display for 15 seconds after the laser has been fired.
Unlike the tournament-suitable Bushnell Tour V3 Standard Edition, the Slope Edition offers distances that are adjusted for slope and angle of approach along with standard distance readings. This can prove to be a useful feature for helping to judge slope before moving into tournament competition.
Obtaining Readings
The unit may not always indicate when it has acquired the target even if it displays the correct distance. If this does not occur, the accompanying JOLT vibration will not respond. The manufacturer claims the V3 Slope has a range from 5 to 1,000 yards under prime conditions, with 300 yards to a flag.
At less than 200 yards the unit can lock on and provide a JOLT response most of the time. When targets go beyond this point it becomes more difficult to separate targets from their backgrounds. The rangefinder is one of the quicker ones in its class, even with PinSeeker mode used to lock on to multiple targets.
Cost/Value
With all of its available technology, including slope compensation, the Bushnell V3 Slope's retail price of $399 is a fair deal. Although it features a less-than-average magnification and lacks an OLED display, it still provides a wealth of features and functions that make it worth the time and cost.
Bushnell Tour V3 Slope Review  – Final Thoughts
For those that appreciate the benefit of slope compensation the Bushnell Tour V3 Slope Edition is a great improvement upon the standard model. It offers the same characteristics with the benefit of adjusting for shot practice outside of tournament play. >>> Click Here for Pricing, Pictures and Reviews on Amazon.com