Simmons LRF 600 Laser Rangefinder Review and Ratings
The Simmons LRF 600 is a laser rangefinde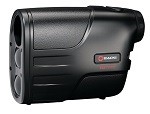 r that can be used for golf or hunting, and comes with a much lower price than many typical golf rangefinders. More advanced models will offer better accuracy at longer distances, but for those that mainly need to distance shots into the green or check for hazards the device is perfectly suitable. Those looking to stay within a budget can use this Simmons LRF 600 review to determine if the device meets the needs of their personal golf game.
Pros
Exceptional Price:While some rangefinders cost hundreds of dollars the Simmons LRF 600 can be purchased for less than $100. It comes at the cost of sacrificing many features, however, but can still be used efficiently for certain shots.
Simple:The device features a no-frills point-and-shoot operating style.
Cons
Distance:The unit's accuracy starts to decline beyond 300 yards.
Magnification:While it does provide a 4x magnification, most units offer 5x at the least.
---
 Click Here for Pricing, Pictures and Reviews on Amazon.com
Ease of Use
The Simmons LRF 600 is easy to use and features an ergonomic design that allows it to be held comfortably without causing fatigue when used for long instances. It is only 4.2 x 3.6 x 1.9 inches and it should fit into most hands or pockets with ease. Weighing 7.7 ounces, it is easy for most to carry around. The exterior is sturdy enough to protect the device from casual wear. It is also water-resistant so users can feel confident that the device will operate even when rain begins to pour. The unit is simple to use and can provide distances with the single press of a button and locks on to the target quickly. It features an LCD screen that will display the distance as well as possible hazards.
Features
The LRF 600 offers 4x magnification to allow the user a better view of hazards to avoid. This magnification can be changed very quickly when necessary. The unit also features clear optics with an LCD display. The unit's body is compact and weather-resistant.
Obtaining Readings
The advertised range for the Simmons LRF 600 is 600 yards in optimal conditions. Its accuracy begins to decline around 300 yards and higher. Those in need of reading longer distances may be better suited for a more advanced unit that can provide accuracy at longer distances. For those that only need shots within 300 yards, however, this device should fare just fine.
Cost/Value
The LRF 600 only costs around $90 to $120, so lost investment would not be much of an issue. With the low price comes lowers expectations, yet the device still holds its own for targets at shorter distances.
Simmons LRF 600 Review – Final Thoughts
Although the device loses accuracy once reading distances over 300 yards, it still offers much in the way of crystal-clear optics with a display that is easy to read. The 4x magnification makes targets easily visible as well. In all, the device may not live up to more advanced models but it is still an affordable option for short-distance shots. >>> Click Here for Pricing, Pictures and Reviews on Amazon.com