Best Golf GPS Reviews and Buying Guide
Are you ready to take the next step into increasing your golf game to new heights? You are at the right place. This ultimate guide will showcase you the advanced devices for even better golf experience: the Golf GPS Units.
When considering a golf GPS unit, the player should be aware of the most important aspects of the unit before making the decision.
That's when our ultimate guide come in handy: we assist you with valuable information by providing thorough golf GPS watches and golf handheld GPS reviews so that you can get a better idea of the device ahead of time.
This helps prepare you – the player – to choose the best unit and be able to compare it against other models.
We have conducted the thorough research on these golf GPS devices in order to make the best buying guide. We evaluate the ease of use, initial setup, course coverage, accuracy, cost and more.
This guide compares various aspects in order to narrow down the best golf GPS for your particular needs. Read on these golf GPS reviews and save your time & money!
Our Recommended Top 5 Golf GPS Watches 
Our Recommended Top 5 Handheld Golf GPS 

What is a Golf GPS?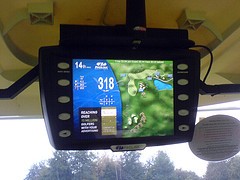 A golf GPS assists the player with course and shot information before, during or after play. These devices provide the details that make a significant difference in a player's performance. Without a personal caddie, selecting appropriate clubs or finding distance for each hole can be quite problematic.
A golf GPS prevents the need to make guesses, so it serves to improve the player's accuracy by offering information he or she would not be aware of. GPS devices provide insight before and after shots to get the most out of the rounds.
They assist with navigating each course by measuring distances between the player, the ball and the hole. Many devices are able to provide a multitude of facts including shot distance, length of the previous shot, hazard locations and elevation changes.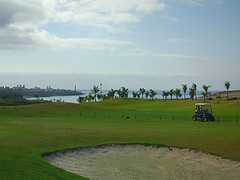 The units can also keep track of information to monitor player progress throughout play. These devices are particularly useful for those playing on new and unfamiliar courses or those looking to take more shots from their score, and they usually come with course maps preloaded into the device exactly as golfers play them.
Most golf GPS units come in either watch form or handheld form.

Pros and Cons of Using a Golf GPS
Golf GPS devices offer lots of benefits on the course, but they are not without flaws. Following are some of the most common pros and cons of using them.
Pros
Helps provide distance within inches to target even when out of sight
Quick and simple readings
Score and statistics tracking (on some models)
Club recommendation (on some models)
Stroke execution recommendation (on some models)
Ability to sync to other devices to update course information
Assists players even on unfamiliar greens
Cons
There are a few negative aspects to consider when planning to purchase a golf GPS unit:
Accuracy of device, included courses and number of distances may be dependent on the manufacturer
Possibility of additional monthly, yearly, lifetime or per-course fees
Setup, download of courses or software installation may be required
Less accurate than laser rangefinders at open line-of-sight measurements
Many golf GPS devices require a monthly or annual subscription charge, and this adds on to the total purchase price. In a sport that can be costly to keep up with altogether, additional costs are not easy to incur for some players. The best golf GPS units may cost over $250, so splurging may mean compromising in other areas of the game.

Golf GPS vs Laser Rangefinder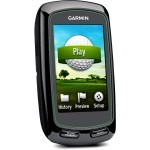 There are major differences between laser rangefinders and GPS golf watches. These differences affect how players make their way through a course, and both devices provide benefits and feature limitations compared to the other.
GPS units are programmed to detect the positions of features on a course and compute distances based on this information. Rangefinders measure distances based on the time it takes a laser beam to reflect off of a target. Some may consider GPS units to be more reliable in this way in that distances are already known, and user faults are not likely to affect the reading.
GPS devices typically cost between $100 and $400, but they often come with additional subscription or membership fees to update courses. Laser rangefinders often cost from $200 to $500, and that purchase price is the only cost. In this regard, rangefinders may be considered the better option for some.
With a rangefinder, the distance to any object on the green can be acquired. GPS units usually provide distances to preselected points, but some offer more control. The benefit of the rangefinder is the ability to measure distances to and beyond other players to determine if other groups on the course are out of range. GPS units often provide an aerial view of the hole for players on unfamiliar courses.
Rangefinders are simple to operate as all it takes is aiming the device and firing it. Many GPS units require the downloading and installing of software for particular courses. Once on the course, the player may still be required to navigate to the appropriate hole once the device has detected the course. When the GPS is ready, the device is very simple to operate and information is available immediately.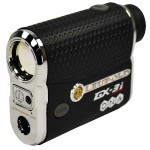 One issue with these devices is the fact that some features are only identified if the programmer decides to include them. The player can position a cursor to find specific objects with some models, but the accuracy of the readings will depend upon the user's ability to properly place their cursor.
A drawback with lasers is the difficultly sometimes experienced when trying to measure targets from longer distances without reflective pins. It is also difficult to get accurate readings on horizontal features such as sand and water, and performance of the laser may decline in inclement weather.
What Types are Available?
Golf GPS devices offer many of the same features, but they also vary in capabilities. Many models vary in that they provide specific benefits compared to their counterparts. The two most common styles of golf GPS devices are handheld and watch units.
Handheld units feature bigger and more colorful screens that are not often available in smaller watches. Handheld systems are often more complex and provide more precise details for readings and analysis of pre-shot conditions or shot execution.
GPS watches are beneficial in that they are much smaller than handheld units. They are also lightweight and simple to carry and keep track of on the wrist. Even when not used on the wrist, they usually feature clips to attach them to belts, pockets and hats. Most GPS watches can be switched from GPS to watch mode, and this helps significantly prolong the battery life.

Factors to Consider When Purchasing a Golf GPS
To get the most out of the playing experience, buyers should be aware of certain criteria to determine and find the best golf GPS watch for their needs. There are numerous factors that are most important in a reliable GPS device.
Accuracy: Device accuracy is one of the most essential aspects of a GPS device. It must be accurate in that it can pick up satellite information to determine the current location. It also has to ensure information on the course is properly mapped.

Display: The display should be easy to read with contrasting figures against the background. It should be bright enough to read even in direct sunlight, and the colors should be vibrant.

Size: Most golf GPS units are small enough to fit in a pocket or clip on a hat. Even though they are larger by comparison, the best handheld GPS units are powerful but still small enough to fit in a pocket like a smart phone would. All devices should be light enough to carry around easily with practical dimensions.
Ease of Use: There is little purpose to buying a device that is rarely or improperly used, so it is important to purchase a unit that is simple to start and navigate. This especially comes in handy when playing on new courses.

Features: Most units are expected to provide the basic distance measurement features, but some units provide additional features that are extremely helpful such as score keeping, stats tracking and aerial fly-overs.

Course Coverage: Dependable GPS units should cover as many courses as possible over the world. For those courses that are included, the advertised features should be available on any given course. There should be as much detail as possible once on the course, and the ability to add personal hazards or map information is helpful as well.

Membership or Subscription Fees: Many golf GPS devices require buyers to take on memberships or subscriptions to stay updated or gain access to course downloads. For some people, it can be a pain to continually pay for an item after having purchased it. There are several GPS options that do not require additional fees.

Battery Life: Golf GPS watches can run out of battery power very quickly depending on how long or the manner in which they are used. For frequent golfers, it is much more convenient to find a unit that can survive longer on a single charge.
Where to Purchase the Best Golf Watch
Buying a golf GPS can be difficult enough just by sorting through the many brands available. From those brands come numerous models as well. The retailer from whom the device is purchased may also have an effect on the quality of the item.
Many players choose to order their GPS units online to make the purchase more convenient. With this method, golfers can save money on gas, take advantage of shipping deals or return items easily if not satisfied. The best place to find quality golf watches online is Amazon.com.
Most units will have free shipping by default if purchased directly from the company, and there are many of the latest models available here.

Top 5 GPS Golf Watch Reviews
Garmin Approach S1 GPS Watch

The Garmin Approach S1 is one of the best-selling golf GPS devices in its price range, and it is ideal for those that need something efficient but simple. It features a 1-inch waterproof LCD display with a built-in odometer. The Approach S1 comes with over 14,000 courses across the United States and Canada.
The unit also offers the ability to choose between seeing the distance in the front, the middle or the back of the green. The Approach S1 can be purchased for as little as $130, and it does not require an annual subscription.
One drawback to the device is its weak battery life. It is much less capable in this area compared to many later models available. In watch mode, the battery life may last for up to three weeks. When used as a GPS, the device will only last for about eight hours. >>> Click Here for Pricing, Pictures and Reviews on Amazon.com
Garmin Approach S4 GPS Watch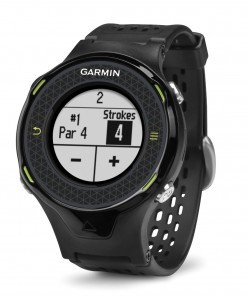 The Approach S4 is a simple device, yet it features Bluetooth technology that allows for receiving texts, emails and call alerts. It also features a touchscreen that is easy to navigate, and the majority of the S4's functions can be figured out without even opening the manual.
The unit provides distances to the front, middle or back of greens along with doglegs and layup. It can measure shot distances as well as track scores the can be reviewed on the watch. The rechargeable battery is made to last up to 10 hours in GPS mode, and the unit's screen has a 128 x 128 resolution. The watch is 1 inch in size and waterproof up to 10 meters.
The downside to the Approach S4 is its touchscreen. It features a firm touch that may benefit some but be a hindrance to others. It also has a white wristband that will be more susceptible to staining, and there are no pre-mapped hazards. >>> Click Here for Pricing, Pictures and Reviews on Amazon.com
Bushnell NEO-X Golf GPS Watch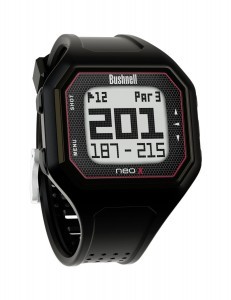 The Bushnell NEO-X comes with over 30,000 American courses preloaded, and it works perfectly for those that love to golf around the country. It is a lightweight unit with a bright and easy-to-read LCD display. In GPS mode the device can last over 12 hours with one charge. If it is used as just a watch, the battery can last two full years.
The Bushnell NEO-X watch can be purchased for $160 to $180, and it is one of the few GPS watches that requires no additional membership or download fees. The waterproof unit also features an odometer that shows how far and how quickly the player walks.
A downside to the NEO-X is that it only displays two hazards for each hole. Another is the fact that the distances to the green are at fixed points to the front and back of the green instead of points based on the position of the player. >>> Click Here for Pricing, Pictures and Reviews on Amazon.com
Expresso WR-67 GPS Golf Watch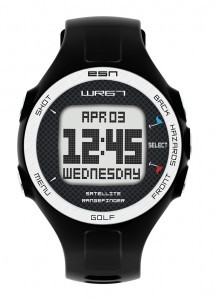 The Expresso WR-67 is an update to the WR-62 model. Enhanced features include options between black or white, an adjustable band, a battery life increase of three hours and tee time start function that allows for planning play in advance.
The Expresso WR-67 comes preloaded with over 25,000 courses, and even more through the brand's partnership with iGolf. It has all of the basic features needed in a golf GPS device such as automatic shut-off to preserve battery life, hole advance and automatic course recognition and the ability to track shot distances.
There is no need to download extra features once setup is complete, and the unit requires no additional yearly or course fees. With these features considered, the $160 price tag makes it one of the most affordable golf GPS watches available. For retrieving balls, the unit is waterproof up to 30 meters. >>> Click Here for Pricing, Pictures and Reviews on Amazon.com
SkyCaddie WATCH Golf GPS Watch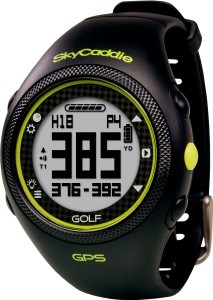 The SkyCaddie WATCH has a number of excellent features but also a few shortcomings. It features shot tracking to measure shot distances even when transitioning to different menus and screens. It is easy to use, and it has an interface that is simple to navigate and easy to read.
The watch can be purchased for $150, and it features up to 30,000 courses. The SkyCaddie WATCH can be programmed to advance to the next hole automatically, and changing holes can be done manually with a press of the up and down buttons. It has strong course coverage along with a comfortable wristband and options for black or white trim.
The WATCH does come with some issues including the inability to toggle scoring on or off and difficulty getting it to sync. It only offers distance to three fixed points on the front, center and back of the green. >>> Click Here for Pricing, Pictures and Reviews on Amazon.com

Top 5 Handheld GPS Reviews
Garmin Approach G8 Golf Course GPS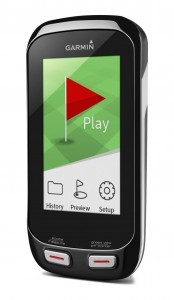 The Garmin G8 features the same sleek design as the previous generation but with enhanced features. One of the most prominent enhancements is the addition of slope-adjusted distances. It also helps overcome blind spots by directing the player to the center of the green.
The G8 offers club recommendations based on distance tracking of prior shots and the ability to download course updates via WiFi. It provides multiple scoring options for players in addition to the ability to receive call, email and text alerts. There is an online portal for players to upload scores and track gradual progress.
The unit is waterproof with a bright 3-inch touchscreen with Big Numbers Mode that makes the display easier to read. It has a battery life of around 15 hours, and it can be purchased for just over $300. >>> Click Here for Pricing, Pictures and Reviews on Amazon.com
GolfBuddy Voice GPS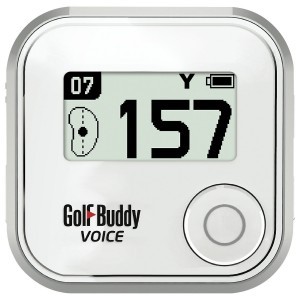 The GolfBuddy Voice is a voice-activated unit that details yardages with eight different pre-programmed languages. It can announce the hole being played, distances to the edges and center of the green, shot distances and time.
It also includes a display to visually detail distances along with graphics of the shape or edges of the particular green. The unit also includes automatic hole advance and shot distance tracking. Over 35,000 courses are preloaded to the device, and it provides distances to the near, center and far points on the green relative to the position of the player.
The GolfBuddy Voice is lightweight and compact, and it comes with a clip to easily attach it to a shirt, belt or cap. It can be purchased for less than $100, and there are no additional fees to access the course database. One drawback is that it lacks the ability to track scores or statistics. >>> Click Here for Pricing, Pictures and Reviews on Amazon.com
IZZO Swami 4000 Golf GPS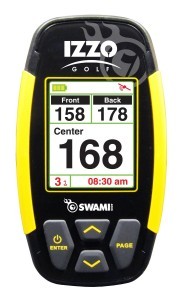 The IZZO Swami 4000 is a simple device providing only the basics in a golf GPS unit. It features text distance readings to fixed points at the front, center and back of the green. Noticeable improvements from the previous Swami 3000 include automatic advance between holes, shot distance measurements and a 1.8-inch color screen.
In the distance screen, the Swami 4000 also provides the hole number, battery level and time. It features an easy-to-read interface, and is a very lightweight GPS unit. There are over 30,000 courses preloaded to the Swami 4000, and it can be read even in the brightest sun.
The unit is waterproof with a rechargeable 8-hour battery, and there is no annual subscription required. The Swami 4000 lacks graphics as well as the ability to keep score. It also lacks hole handicap information and the ability to update courses on Mac computers. >>> Click Here for Pricing, Pictures and Reviews on Amazon.com
Garmin Approach G6 Handheld Touchscreen Golf GPS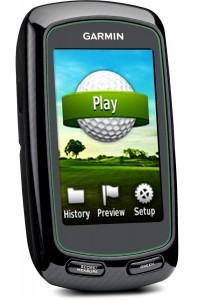 The Garmin Approach G6 Handheld GPS features the same color touchscreen of the generation before it, but it carries a sleeker design. The G6 Handheld GPS features a 2.6-inch diagonal screen, is only 0.8 inches thick and weighs 3.4 ounces.
It provides bright and colorful maps with advanced image detail that is enhanced with layup arcs for each hole's layout. The device can provide the distance to any point on a map by simply pressing that point. It will also tell the distance from the point to the middle of the green.
The G6 Handheld can be purchased for as little as $200. The interface is simple to use as well as the touch feature. It falls short in lacking the ability to view saved scores on a computer as they are only viewable on the unit. >>> Click Here for Pricing, Pictures and Reviews on Amazon.com
GolfBuddy Platinum GPS Rangefinder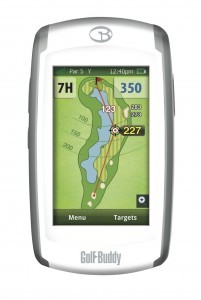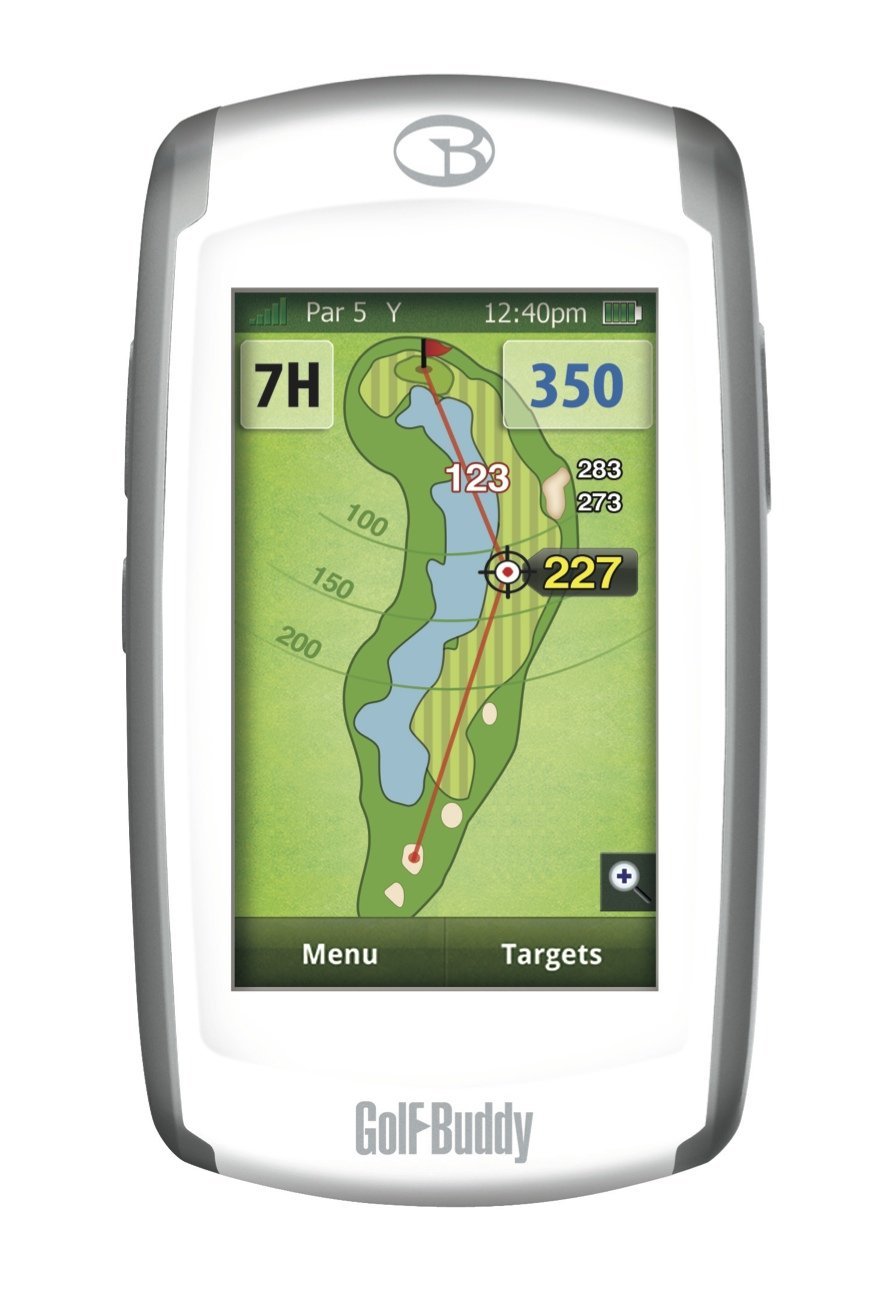 The GolfBuddy Platinum is a simple device that provides all the basic features needed in a golf GPS. It has incredible course coverage, and its worldwide courses are preloaded. There is no need to install software or download additional components to begin using the device, and there are no subscription fees to access course updates.
Scores can be tracked for multiple players, but stats can only be kept for the main user. Shot tracking allows users to monitor the distance and location of their shot to be reviewed later in the round, but there is no way to enter club information for each shot.
The touchscreen could be better, and it may be difficult to select certain points without making very precise taps to make a selection or multiple taps to open a menu. The GolfBuddy Platinum can be purchased for less than $250. If the drawbacks can be overlooked, it serves as a fine tool with the basic abilities. >>> Click Here for Pricing, Pictures and Reviews on Amazon.com
Making the Decision
Choosing the best golf watch can have a significant impact on any golfer's game. Some players do well with the more simplistic models, but others prefer the advanced units with vivid displays and enhanced features.
The best units for every player are those that are easy to use during play.
After seeing the golf GPS watch comparison chart and reading golf watch reviews, you may have a clearer idea of which golf GPS device best fits your needs.
If you are still unsure, it may take more thorough research to better narrow down your final picks.