Nikon 8397 Aculon Laser Rangefinder Review
The Nikon 8397 ACULON is a compact and affordable laser rangefinder that is de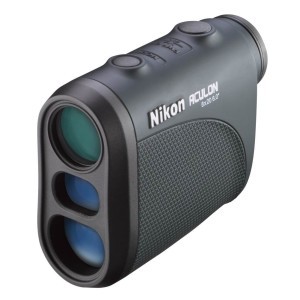 signed to offer maximum portability as well as precision. It fires and returns distances quickly and utilizes Distant Target Priority Mode for distinguishing targets from surrounding objects. The device provides line-of-sight distances only and would be allowed for tournament play. Examine this Nikon ACULON review to compare it to other devices before making a final choice.
Pros
Exceptional Price:The Nikon 8397 ACULON costs less than $200 yet it still provides pin-locating technology found on more advanced devices..
Accuracy: Users report an impressive level of accuracy for this device.
Cons
Locking On: While accurate, some users report having difficulty getting the device to lock on to the flagstick at distances over 100 yards.
---
 Click Here for Pricing, Pictures and Reviews on Amazon.com
Ease of Use
The Nikon 8397 ACULON is the most compact of Nikon's laser rangefinders, coming in at only 3.6 x 2.9 x 1.5 inches in size. It is easy to carry along and is small enough to compete with many smartphones in portability. It can also be easily worn around the neck or carried in a pocket. Without batteries the device weighs a mere 4.4 ounces, so it poses no threat of being cumbersome.
The 8397 ACULON features an easy-to-read display that shows distances in yards or meters and these distances can be acquired with the quick push of a single button. Holding the same button allows the unit to provide a continuous stream of measurements while panning across an area for up to 20 seconds. The ACULON powers down automatically eight seconds after ceasing to engage the laser.
Features
The 8397 ACULON features Distant Target Priority Mode that will display the distance of the farthest target when measuring a group of targets. This helps return an accurate distance for targets that may be obscured by grass or trees. The unit provides a comfortable 6x magnification with a 20-millimeter objective lens. It is crafted with Nikon's multilayer coated optics for a high transmission of light across the entire spectrum of visible light.
This decreases the chance of lost light cause by reflection and offers a more clear and natural view. The unit features an uncluttered and simple LCD display and displays distances in one-yard increments. In ideal conditions it ranges at up to 550 yards. The 8397 ACULON is also resistant to the effects of excess water.
Obtaining Readings
The 8397 ACULON utilizes Distant Target Priority mode to ensure no distracting objects interfere with the lasers ability to hit the target and return the distance. It ranges distances easily at up to 300 yards. The device is very accurate for returning distances within its comfortable range.
Cost/Value
The ACULON can be purchased for less than $200, putting it on the lower end of rangefinders in terms of price. Its features, however, are impressive considering, with Distant Target Priority and advanced optics. It would be a wise investment for those wanting a simple machine with supreme accuracy.
Bushnell 8397 Aculon Review – Final Thoughts
The Nikon ACULON is an extremely affordable device featuring Nikon's clear optics and 6x magnification. It is a fast and accurate device, utilizing Distant Target Priority to capture targets without being distracted by their surroundings. It should be adequate for most golfers that only need line-of-sight readings. >>> Click Here for Pricing, Pictures and Reviews on Amazon.com