Bushnell Medalist Laser Rangefinder Review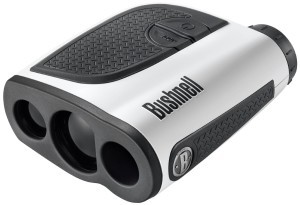 The Bushnell Medalist is the brand's attempt at offering its revered PinSeeker technology in a more affordable device. This laser rangefinder comes in at a significantly lower price than its predecessor, the hugely popular PinSeeker 1500. It is very simple to use, versatile and it features the basic functions needed for this type of device. As it only provides line-of-sight distance the Bushnell Medalist would be appropriate for tournament use.
Pros
Price: Bushnell devices with PinSeeker tend to cost much more, but the Medalist costs just over $200.
PinSeeker: The Bushnell Medalist can be considered as a budget rangefinder, however it still features PinSeeker technology for pin-locating and distinguishing targets from their backgrounds.
Cons
Inconsistent:Some users claim that even with PinSeeker the device can return inaccurate readings.
---
Click Here for Pricing, Pictures and Reviews on Amazon.com
Ease of Use
The Bushnell Medalist is a compact machine measuring 1.7 x 4.5 x 3.8 inches. Weighing 9 ounces, it is moderately lightweight compared to other devices. The Medalist is easy to carry and it comes with a carrying case that can be clipped onto a golf bag. It features a no-slip rubber exterior to prevent slipping or dropping. The device comes ready to use with the battery already installed, meaning it can be powered on and used to range distances right out of the box.
Features
The Medalist features Bushnell's famous PinSeeker technology that is made to help distinguish targets from background objects. When aiming at a target with a larger object directly behind it, it may be easy for a rangefinder to acquire the distance to the larger object. With PinSeeker mode, the Medalist will provide the distance to both objects in its view with the first distance indicating the distance to the closest object.
The Medalist can calculate the distance to the pin within +/- one meter, and the distance can be displayed in meters or yards. The device is made to range targets from 5 to 1,000 yards with a 4x magnification and 20-millimeter objective lens. It offers a simple LCD display and the unit is also rainproof.
Obtaining Readings
The Medalist is made to range up to 300 yards to flagsticks, 500 to 700 yards to trees and 1,000 yards for very reflective surfaces. These distances depend upon the reflectivity of each target, and environmental conditions, among other factors. Flags can be picked up with ease at up to 150 yards, but PinSeeker should be utilized for targets that are farther away or have strong targets behind them.
Cost/Value
The Medalist comes in at just over $200, whereas many of the high-end Bushnell devices featuring PinSeeker may cost from $100 to $200 more. In comparison, the Medalist may not live up to the ability of those devices to range farther distances, nor does it offer high magnification. It does, however, provide necessary rangefinding ability with the advantage of PinSeeker to distinguish true targets.
Bushnell Medalist Review – Final Thoughts
The functions available with the Bushnell Medalist are more than suitable for typical conditions on the golf course. The device is easy to use and it still makes play that much easier than it would be without a device. Hopefully this Bushnell Medalist review will clarify the unit's strong points in comparison to its shortcomings with other units. >>> Click Here for Pricing, Pictures and Reviews on Amazon.com