Bushnell Fusion 1 Mile Binocular Rangefinder Review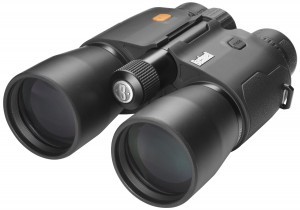 The Bushnell Fusion 1 Mile is an advanced version of the 1600 model. It stands out in that it provides superior ranging abilities and a more affordable price.
It can accurately range distances to targets one mile away and even beyond. Potential buyers can use the details outlined in this Bushnell Fusion 1 Mile review to make an informed decision before purchase.
PROS
Superb Accuracy: The Bushnell Fusion 1 Mile can range targets beyond 1,700 yards to live up to its "1 Mile" name. It also performs excellently when ranging offhand.
Advanced Modes: The unit offers three advanced ranging modes that help tailor its ability to judge distances in complex environments.
Price: The Bushnell Fusion 1 Mile can be purchased for less than $1,000 making it one of the most affordable rangefinder binoculars on the market. Add in its accuracy in ranging long-distance targets, and it provides the best value of any popular model available.
Comfort: The 1 Mile is quite compact and light for a unit of its type.
CONS
Display: The display is a bit too bright, and it has too much information that crowds the bottom of the screen.
Ranging Button: The unit goes to "sleep" quickly, so the ranging button has to be pressed once to wake it up and again to range the target. The button is also very difficult to press, and this can move the user off the target when ranging. There is no tactile feedback, so the user will have a harder time compared to other models telling if the button has been pressed.
Lack of Custom Ballistics: The unit only offers preset ballistics profiles, so those that engage in long-range precision shooting will lose out on the ability to upload their own.
Ranging Time: For longer distances beyond 1,200 yards, the unit will take a very long time to provide a distance reading.
---
Click Here for Pricing, Pictures and Reviews on Amazon.com
Summary
The Bushnell Fusion 1 Mile provides some of the best quality for its price. It may not be one of the top-of-the-line models, but that shouldn't be expected considering how affordable it is. It features innovative Brush and BullsEye modes to make locking in on targets much easier, and this helps improve accuracy in more difficult surroundings.
Optical Performance
Tests for optical performance were done by placing charts at various distances from the unit. The ability to make out the detail on the charts at each distance is determined by the visual clarity provided by the model. Optical quality turns out to be one of the 1 Mile's shortcomings.
The optical quality is still decent, but it is not up to par with many competing models from Leica or Zeiss or even the Bushnell 1600. This lack of optical quality could be a result of the brand's desires to keep the model within a certain price point.
Bushnell Fusion 1 Mile ARC Binocular Laser Rangefinder - First Look
Ranging Performance
In contrast to the optical performance, the ranging ability on the Bushnell 1 Mile is superb. It can perform better than many competitors well beyond its price point. It may not have the optics of the 1600, but its ranging abilities far exceed those of that model.
The Bushnell 1 Mile lives up to its name with its ability to actually range this far. The model is able to range distances with 70 percent accuracy even beyond 1,700 yards under ideal conditions.
One of the best aspects of the Bushnell 1 Mile is the advanced modes available. These modes allow the user to alter the unit's ability to read a distance based on the type of scenario in which the target is located. This allows the rangefinder to return more accurate readings based on the surroundings. The advanced modes include:
Normal Mode: Normal Mode takes all readings into consideration before making an estimate and providing a distance. This is the same as the ranging available on most models.
BullsEye Mode: This mode provides readings for smaller targets without mistakenly reading distances of larger objects in the background that give off stronger signals.
Brush Mode: Brush Mode ignores brush and tree branches so only distances to background objects are interpreted.
Ballistic Functions
The 1 Mile model provides basic ballistic functions with eight preset curves. It allows the user to choose the curve that fits best with their cartridge. The ballistic functions are limited to 800 yards or less, and this is suitable for those shooting at shorter distances under 500 yards.
Choosing a preset profile is not an acceptable option for those that shoot at longer distances and have to count on accuracy above other factors. Long-range shooters need the control warranted by loading custom ballistic profiles, so the method allowed with this unit will not provide the accuracy they need.
Ergonomics & Design
This model is compact and light, but it has a tricky ranging button. This is one of the most important aspects of the device, so it should not be overlooked. The focusing knob is also very light and hard to reach, and the diopter setting can easily be adjusted unintentionally.
Warranty
The Bushnell Fusion 1 Mile comes with a non-transferable 2-year warranty. This type of warranty only covers the original owner that purchased it through Bushnell or an authorized retailer. If it is purchased from another owner, it will not be covered by warranty. This is quite common for these types of rangefinder binoculars, and for a model of this price it is to be expected.
Conclusion
The Fusion 1 Mile builds on the previous 1600 model but offers improvements such as increased range in a compact 8x32 unit. It does fall short in a few categories such as logistics and optical quality, but for its price much more shouldn't be expected.
This model is best suited for those needing an affordable device with reliable ranging even at longer distances. >>> Click Here for Pricing, Pictures and Reviews on Amazon.com