Best Rangefinder Binocular Reviews & Buying Guide
Laser rangefinder binoculars provide users with two effective tools in one. There are many models available, and here we have collected and organized information on some of the best rangefinder binoculars on the market.
We hope potential buyers use this information to their advantage to learn about and decide upon the model that is best for their needs. Preparing this information by conducting research on each model and comparing it to others, we've created these rangefinder binocular reviews. Our research involves testing the units optical performance, accuracy, ranging abilities, ballistics, ergonomics and more.
We test each unit multiple times in applicable categories to make the most accurate conclusion about its quality. We hope the information provided here can help curious buyers learn more about the models they have in mind.

Factors to Consider When Buying Rangefinder Binoculars
There are many factors to consider in order to get the best features out of rangefinding binoculars:
Optical Performance: The optical performance makes up the "binocular" aspect of the device, so models should have impressive optics. It is much easier to correctly spot targets at longer distances with better clarity, and having a clear image increases the chances for an accurate shot.
Ranging Performance: The ranging performance describes how far a model can accurately range a target. The maximum range listed by the manufacturer is the farthest the model can return accurate results under ideal conditions. This is important because it makes up half of the purpose of the device, and different hunting styles require different maximum ranges.
Ballistic Functions: Ballistics curves are essential for getting proper information from the rangefinder unit, and customizable ballistics information is ideal. Many units come with pre-programmed ballistics charts that also allow the user to enter their own specific information. Some models even feature automatic adjustment of the ballistics curves based on changes in the atmosphere.
Ergonomics & Design: The design may not be the most important feature to some users, but a poorly-designed unit will compromise a user's ability to accurately and comfortably use the model and range targets. Important aspects of ergonomics include model design, comfort, button placement, weight, and dimensions.
Angle Compensation: This feature considers the angle from the device to the target and alters the distance reading to reflect the change in distance and weight of gravity on the projectile. It rarely comes in handy for most users unless angles are quite extreme, but it can be very useful for bow hunters in high tree stands. For those that rarely need it, it may not be worth the higher price tag.
Magnification: Like any set of binoculars, the magnification is crucial depending on how the unit is used. Bow hunters will do well with units that provide 4x magnification that provides a better field of view for targeting game at close range. Those using high-powered rifles need around 7x magnification due to the distance from the target.
Value: The overall value of a unit will be very important for many users. Most want to get as many features as they can for their money, so it would be wise to get a unit that provides similar features at a lower price instead of aiming for the best of the best with a very high price tag.
Warranty: Many people overlook warranty coverage for most of the items they buy. For expensive and high-quality items such as these, warranty coverage will be essential should damage or defects occur. Most manufacturers offer limited warranties, but some are better than others in offering coverage that transfers even when purchased used.
Our Current Top 4 Recommended Rangefinder Binoculars
Rangefinder Binocular
Magnification x Obj lens
Close Focus
FOV @1000yd
Eye Relief
Weight
Price

Leica Geovid HD-B





** Editor's Choice - Best Rangefinder Binoculars - Premium **

10x42mm
16.5ft
342ft
20mm
39.4oz

Bushnell Fusion





** Editor's Choice - Best Value Rangefinder Binoculars **

8x32mm
10x42mm
12x50mm
5ft
10.5ft
10.5ft
393ft
305ft
252ft
16.5mm
18mm
16mm
30.8oz
31oz
32.7oz

Zeiss Victory RF



10x45mm
18ft
330ft
15.5mm
35oz

Swarovski EL Range



10x42mm
16.5ft
330ft
17.3mm
31.6oz
Popular Rangefinder Binocular Models
Leica Geovid HD-B
** Editor's Choice – Best Rangefinder Binoculars **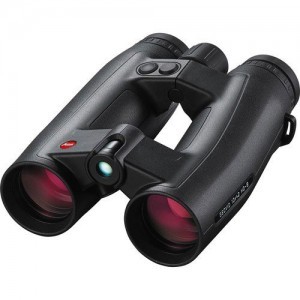 The Leica Geovid HD-B is an advanced model with a versatility that can handle target shooting and hunting. The model features automatic adjusting that alters ballistics based on the atmospheric conditions when in use. It also has fantastic optics with the ability to view targets clearly at over 1,500 yards. Its field of view is 300 feet even at 1,000 yards.
The Leica Geovid HD-B is one of the most accurate models on the market, and it can range targets near its advertised distance with ease. It has impressive ranging performance and the ability to read targets a mile away in ideal conditions. It can also perform well in bright sunlight.
The unit is made with an open bridge and curved barrels that keep the unit more comfortable in the hands compared to more angular models. The Geovid HD-B can be purchased for around $3,000.
Check Price & Reviews on Amazon | Read Our Full Review

Bushnell Fusion 1 Mile
** Editor's Choice – Best Value Rangefinder Binoculars **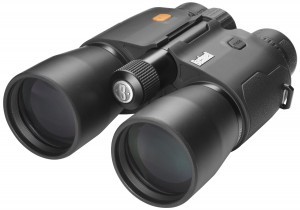 The Bushnell Fusion 1 Mile rangefinder binoculars are very efficient, and they offer extreme value considering their ranging ability. This model can range to the advertised maximum of 1 mile with over 50 percent accuracy in ideal conditions. The model also offers some of the most accurate readings of any model when ranging offhand.
The accuracy is mostly due to the advanced ranging modes available on the Fusion 1 Mile. They allow the user to provide hints on how to interpret readings based on his or her surrounding circumstances. This decreases the chances of inaccurate readings based on tricky scenarios. The abilities of the Bushnell 1 Mile are impressive for any model, but they are even more exceptional considering the cost of these binoculars. This model can by purchased for less than $1,000.
Check Price & Reviews on Amazon | Read Our Full Review

Zeiss Victory RF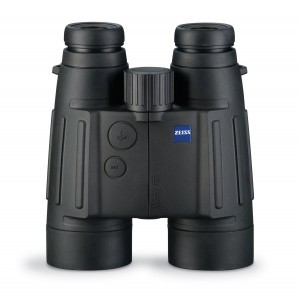 The Zeiss Victory RF is one of the most accurate rangefinder binocular models on the market. It ranges distances to within one percent of the exact distance the majority of the time.
It is advertised to have a maximum range of 1,300 yards, but it proved that it could go far beyond those limits. It can range up to that point with 90 percent accuracy, and it can even go as far as 1,600 yards accurately through at least half of all attempts.
It can also handle some of the toughest ranging scenarios with a small beam divergence. The model has exceptional optical quality that results in clarity beyond 1,400 yards. This is due to the fluoride glass used for its optics. The Victory RF is designed with comfort in mind as it features large easy-to-press buttons that click when pressed. The Zeiss Victory RF costs $3,300 for this 10×56 model and less than $3,000 for the 10×45.
Check Price & Reviews on Amazon | Read Our Full Review

Swarovski EL Range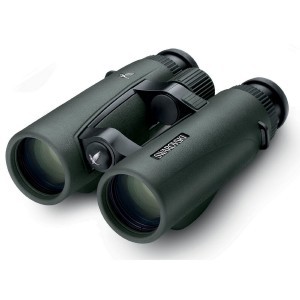 The EL Range acts as direct competition to popular models such as the Zeiss Victory RF and Leica Geovid HD-B. One of its best features is its SWARO-AIM system that determines the angle of a shot and compensates with a shorter altered distance reading. It also features a Scan Mode that detects distances to moving targets.
The EL Range features top-of-the-line optical quality, and details can be made out even at long distances. The binoculars can even be used in darker surroundings with dim light, but it would take most models time to adjust to such conditions.
The model is very accurate, and it can return precise distance readings even past 1,500 yards. It surpasses the Zeiss Victory RF in ranging ability, but it is not quite up to par with the Leica Geovid HD-B in this area. The EL Range is a great example of exceptional optics, ranging performance and ergonomics in one device.
Check Price & Reviews on Amazon | Read Our Full Review

Advantages of Using Rangefinder Binoculars
Combined Tools: One of the main advantages of using a rangefinder binocular unit is having two devices in one. This allows the user to have a free scope (separate from their firearm) while also ranging distances in the same view. Having a two-in-one device means lugging less equipment around in the field.
Time Reduction: Having both tools in use at the same time prevents the extra effort and time spent reaching around for the binoculars, the rangefinder, and the firearm. All it takes is spotting the game, pressing a button and reaching for the firearm when using rangefinder binoculars. This significantly reduces the time spent targeting an animal.
Convenient Design: The binocular design provides additional weight with a wider body that allows for a sturdier two-hand grip. The design also helps keep the hands stable so that users are more likely to correctly range the target with the first attempt. This is also helpful for getting readings at higher magnifications, and this is especially true when compared to vertical rangefinders.
Disadvantages of Using Rangefinder Binoculars
Combined Unit: Having binoculars and a rangefinder in one tool is very convenient, but it can be considered just as much of a drawback should something go wrong. Should the device end up lost, damaged or stolen, it would be equivalent to having two devices compromised at the same time. It would be best to carry at least one backup device to stay on the safe side.
Price: Rangefinder binocular units provide a lot of function in one device, so they are rarely low in cost. Many prices should be seen as reasonable considering the costs of buying quality binoculars and again buying a quality rangefinder.
Making the Decision
Choosing the right binoculars with rangefinder function will depend upon each user's circumstances. Some users value certain aspects more than others. The ability to view distant targets may be a top priority, so a unit with great optics may be most important. Other users need extremely accurate distances to targets and game, so the rangefinder aspect will be paramount.
Binoculars with a rangefinder for hunting need appropriate ballistics curves or customization, but some users want a unit that is lower in price without the bells and whistles. The best rangefinder binoculars are those that meet a user's most important specific needs first aside from any additional features.