Bushnell Sport 850 Laser Rangefinder Review
The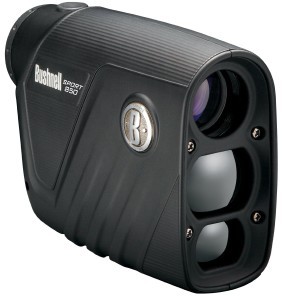 Bushnell Sport 850 is a dual-purpose laser rangefinder that is exceptionally lightweight and simple to carry around. It is simple to use and is made to have an accuracy to within one yard. It is operated with a single button to range targets from 5 to 850 yards. Its bright and clear optics provide visibility even in low light.
As it provides line-of-sight readings only, the device would be suitable for tournament use. For those looking for a rangefinder within lower budgets, the Sport 850 is rugged, lightweight and rainproof to provide a dependable machine at an affordable price. Use this Bushnell Sport 850 review for details on the device when comparing it to other models.
Pros
Durable:The Bushnell Sport 850 features a durable and rugged construction that makes it suitable for multiple uses.
Compact:The unit is very lightweight and compact, making it easy to hold or use with one hand or carry in a pocket or bag.
Cons
Holster: Some users complain that the included holster is too small or flimsy to remove the device with one hand. This requires the user to put the club down in order to place or remove the rangefinder.
Magnification: While 4x magnification allows the user to see closer images of their targets, most standard rangefinders offer a magnification of at least 5x.
---
Click Here for Pricing, Pictures and Reviews on Amazon.com
Ease of Use
The Bushnell Sport 850 only weighs 5.2 ounces, making it one of the lightest of the lightest laser rangefinders. With a measurement of 1.4 x 2.9 x 3.8 inches it is very portable and can easily be tucked into a pocket or bag when not in use. The Sport 850 offers a rugged finish with an anti-slip grip making it easy to hold with one hand even while operating the device.
This surface also makes it easier to keep hold of in wet or muggy weather or while sweating. The device is vertically oriented and claims a ranging ability from 5 to 850 yards with an accuracy to within +/- one yard. The device provides 4x magnification with bright and crystal-clear optics for reading distances in various lighting conditions. It powers on and fires with a single button and is also rainproof.
Features
The Sport 850 features a 4x magnification with a 20-millimeter fully multi-coated objective lens. Under optimal conditions it is made to range from 5 to 850 yards with 600 yards to trees. The device is fast, compact and features a vertical design. The display offers a built-in battery indicator. There are two targeting modes built into the Sport 850, including rain and reflector modes. Rain mode allows accurate distance measurements to be returned even during inclement weather. Reflector mode enhances the distance at the maximum level to reflectors featuring an internal readout. The device comes with a carrying case, neck strap and one battery.
Obtaining Readings
When used for golf the Sport 850 is actually most accurate at up to 200 yards. Acquiring a pin beyond this can be difficult due to lack of stabilization.
Cost/Value
The Bushnell Sport 850 can be purchased for less than $200, making it one of the least expensive laser rangefinders around. With the reduction in cost, of course, comes less features compared to high-end models. The device still does provide the basic distance ranging ability most players need.
Bushnell Sport 850 Review – Final Thoughts
The Sport 850 is Bushnell's main attempt at creating a budget-friendly device. It is one of the most straightforward and basic models the brand has available. It lacks many of Bushnell's common features and does not allow the ability to scan. Those that do use the model, however, appreciate it for its simplicity in golf as well as hunting. It is easy to use for all skill levels, but some advanced players may want to find a device that offers more of the features they would expect. >>> Click Here for Pricing, Pictures and Reviews on Amazon.com