Nikon ProStaff 3 Laser Rangefinder Review
The Nikon ProStaff3 is a compact laser rangefinder that can be use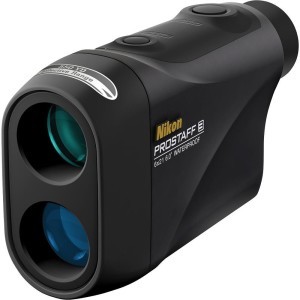 d for golf or hunting. It is built to range targets at up to 550 yards and it operates by powering on and firing with a single button. The device displays distances in yards or meters and offers a 6x magnification. It provides bright multi-coated optics for high-resolution imagery in any type of light. The unit offers line-of-sight distance only, thus it would be suitable for tournament use.
Pros
Price: While it may lack more advanced features, the Nikon ProStaff 3 comes at a very reasonable price for those shopping on a budget.
Size:The unit is compact and lightweight compared to many other laser rangefinders.
Weatherproofing:The ProStaff 3 is made to withstand effects from rain and fog such as moisture and obstructed views.
Cons
Not Steady:The rangefinder is hard to keep steady without another surface or object when held by hand, otherwise it may take several readings before providing an accurate distance.
Hard to Lock On:It can be difficult to initially acquire the flagstick. Some users report having to find the distance to a nearby object on the green larger than the pin. Others aim the laser to the ground under the target.
---
Click Here for Pricing, Pictures and Reviews on Amazon.com
Ease of Use
The Nikon ProStaff 3 is a small rangefinder built with precision and ranging speed in mind. The unit offers the perfect size and design to get the job done with a compact frame weighing only 6.3 ounces. It should easily fit into a pocket or sack, and it can be attached to a belt without being cumbersome. The unit is simple to use with a high profile display and ergonomic frame. Its exit pupil is 3.5 millimeters to offer the most brightness under complicated lighting conditions. The ProStaff 3 operates with a single button to turn the device on and fire the laser.
Features
The device can provide distances in yards or meters. It features an automatic power down feature that activates once the distance reading has been displayed for over 8 seconds. The unit features an exit pupil of 3.5 millimeters. This counters poor lighting conditions to offer the best brightness possible.
Its multi-coated optics produce bright high-resolution imagery. The unit offers 6x magnification in addition to a simple and easy-to-read LCD display for quick and easy ranging. The ProStaff 3 also features an adjustable eyepiece with a +/-4 diopter range. It features an 18.2 millimeter eye relief with an angular field of view of 6 degrees. The unit is also fog- and waterproof to allow for continued use during inclement weather.
Obtaining Readings
The Nikon ProStaff 3 is created to have consistent range capability at up to 550 yards, displaying readings down to half-yard increments. It can reach higher distances near 500 yards with accurate distance returns.
Cost/Value
The Nikon ProStaff can be purchased for little over $200. The overall value will depend upon each user's needs. Some users may see it as having immense value while others may need additional features for the price. All in all, the device is one of the less expensive models and still offers basic rangefinding functionality.
Nikon ProStaff 3 Review – Final Thoughts
The Nikon ProStaff 3 is an affordable device that can range targets at medium distances. This Nikon ProStaff 3 review may help players make an informed decision when purchasing budget-friendly laser rangefinders. >>> Click Here for Pricing, Pictures and Reviews on Amazon.com