Bushnell Tour V3 Jolt Laser Rangefinder Review
The Bushnell Tou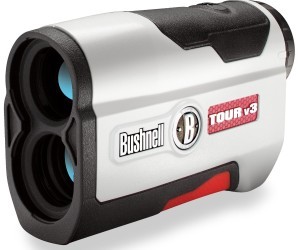 r V3 Jolt Standard Edition provides the same capability as the Slope model, yet this version offers innovative JOLT Technology that alerts the user with a vibration once the PinSeeker has locked on to the target. This feature may not always activate, however, even if it displays correct distances if it has not determined a locked target.
It features a ranging distance of 10 to 1000 yards within one yard of accuracy. The Tour V3 Jolt is also one of the least expensive rangefinders while also providing fast and accurate readings. The unit is legal for tournament play and score posting for handicap.
PROS
Water-resistant: the model is resistant to sudden droplets of moisture.
Affordable: The Bushnell Tour V3 can be found for less than $300.
Easy to Use: The model features one-button operation and vibrates when locked on to a target.
CONS
Could have higher magnification: the Tour V3 model only features a 5x magnification.
While useful, JOLT technology will only activate once the device has determined that it has locked on to its target, even if the distance reading is accurate.
---
Click Here for Pricing, Pictures and Reviews on Amazon.com
Ease of Use
The Tour V3 measures 4.3 x 2.8 x 1.6 inches and weighs less than 8 ounces without its carrying case. It features rubber lining in several areas to enhance gripping. The Tour V3 also has an adjustable eyepiece with -2 to +2 diopter adjustment.
The eyepiece is adjusted by firmly twisting the area, which can be done with one hand, although it is easier to do so by holding with one hand and adjusting with the other.
The model features just one button located on the top of the unit. This button is responsible for turning the rangefinder on or off, powering the laser and adjusting various settings. The cross-hair style cannot be changed.
Features
The Bushnell Tour V3 can provide readings in yards and meters. It also features a SCAN mode that allows for reading distances on a number of targets while panning across a landscape. PinSeeker technology allows the user to range flags easily without worrying about capturing the distances of targets in the background.
If multiple objects are read, the PinSeeker technology provides data on the closest object. JOLT technology works with PinSeeker to increase accuracy and peace of mind. It confirms correct targets by providing bursts of vibration once the laser has locked on to its target.
Obtaining Readings
The Tour V3 easily picks up targets at less than 200 yards, including locking on and giving a JOLT response. Finding targets beyond this range is more difficult, however, and the device has a harder time distinguishing against complex backgrounds. Even without always locking on in these instances the device is still able to provide accurate distance readings for the desired target.
As far as speed, the Bushnell Tour V3 is one of the fastest rangefinders when it comes to locking on to multiple targets. Even with the time taken for PinSeeker to lock on its target it still offers quick readings along with rapid reading to new targets. Accurate distance readings can be given even without locking on and setting on the distance reading.
Cost/Value
The Bushnell Tour V3 JOLT can be purchased for less than $300, making it one of the most affordable rangefinders available. It lacks the same magnification, OLED displays and slope-adjustment found in other rangefinders in its class yet it carries its value in reliable distance readings and PinSeeker technology.
Bushnell Tour V3 Jolt Review  – Final Thoughts
The Tour V3 offers reliable technology for judging distances, and without the extra bells and whistles it is exceptionally affordable. Before making a final decision, compare the Bushnell Tour V3 review with those of others in the same category to determine that most suitable to your needs. >>> Click Here for Pricing, Pictures and Reviews on Amazon.com