Callaway Diablo Octane Rangefinder Review
The Callaway Diablo Octane offers fas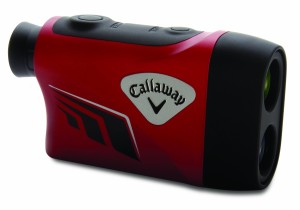 t and accurate distance measurement with 6x magnification offering crisp and clear imagery with its multi-coated optics. It offers eye relief, water protection and can measure targets for up to 8 seconds in succession with one press of a button.
The device is filled with nitrogen and sealed with O-rings to give the user a fogproof experience. The tournament-legal model can read distances at up to 550 yards, and the lightweight design is easy to operate and carry around. Use this Callaway Diablo Octane rangefinder review as a helpful guide when choosing between devices.
Pros
Speed:The Callaway Diablo Octane is able to acquire targets very rapidly to counter its shakiness.
Weight:Weighing only 6.8 ounces, the unit is easy to carry around and hold while operating.
Incremental Readings:For distances less than 100 yards the distance is measured in half-yard increments.
Cons
Pin Difficulty:It can have a harder time picking up the pin compared to other models when there are other objects closely located in the background.
Elevation:The unit is less reliable with changes in elevation, including hills.
---
Click Here for Pricing, Pictures and Reviews on Amazon.com
Ease of Use
The Diablo Octane is a vertical device that makes up for its size with its light weight. The exterior features rubber gripping areas to make it easier to hold and its 6x magnification falls into the average area for laser rangefinders. The display is focused by twisting the eyepiece, and this aspect is easy and fluid.
Distances are shown in a large font immediately above the crosshair. There are two functional buttons on the device, both on the top of the unit. One button powers the device on and fires the laser, while the other allows for switching between yards and meters.
Features
Nikon's famous First Target Priority mode shows the range to the closest target after scanning multiple results from a single measurement. This comes in handy when trying to measure the distance to a target with wooded areas in the background. When scanning it can measure distances to multiple targets for up to 8 seconds. The rangefinder is sealed with O-rings and filled with nitrogen to make it resistance to moisture and fog.
Obtaining Readings
Under 100 yards the device will provide distances in one-half yard increments. Readings are exceptionally accurate within 250 yards. At greater distances it becomes harder to steady the device and eliminate background objects. At such distances the unit can pick out flags but has a harder time locking on to the pin. This is noticeable above 100 yards but becomes a real problem beyond 200 yards.
The Callaway Diablo Octane comes in as one of the faster rangefinders with its First Priority Mode and panning mode. The former scouts the target even with background distraction while the latter allows for successive distance readings.
Cost/Value
The Diablo Octane can be purchased for less than $300. It offers some features considered standard to a rangefinder, such as its 6x magnification, and others that stand out, such as it panning mode and First Target Priority feature. The unit's speed plays a large role in how easily distant holes can be acquired. For those on a budget or looking for a simple device, the Callaway Diablo Octane is a great unit to consider.
Callaway Diablo Octane Rangefinder Review – Final Thoughts
The Callaway Diablo Octane stands ahead of many models with its exceptional features, including its light weight, high speed and pin-hunting technology. The rangefinder is also lower in price than many similar models, while still offering crisp imagery, a sharp LCD and 6x magnification.  >>> Click Here for Pricing, Pictures and Reviews on Amazon.com