Leupold GX-1i Laser Rangefinder Review
The Leupold GX-1i i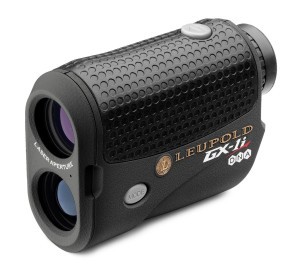 s one of the first models in the GX series and serves as the tournament-legal counterpart to the GX-2i. It offers crisp optics, revered laser technology and a variety of useful features. Beam geometry improves the return of fired laser signals.
PinHunter assists in tracking down targets while Prism Lock verifies the information and alerts the player. Fog mode cuts through inclement weather to maintain accurate results, allowing for continued play without returning false results from environmental changes. Scan mode provides multiple distances in one sweep.
Pros
Optics: The optics are clear with simple diopter adjustment.
Digital Enhanced Accuracy: Digital Enhanced Accuracy, or DNA, offers faster and more accurate ranging against a variety of backgrounds.
Cons
Shaky: The size of the device may make it harder to hold steady, thus it can be harder to achieve a reliable reading.
Difficulty Acquiring Flags:The GX-1i can sometimes have trouble distinguishing true targets from background objects.
---
 Click Here for Pricing, Pictures and Reviews on Amazon.com
Ease of Use
The Leupold GX-1i features a compact shape with a smooth plastic base and rubber exterior for easy gripping. It is easy to keep a firm hold on the unit.
It comes with a Leupold carrying case that is well-designed for function. Its top is easy to open and provides an elastic band closure in addition to space for a cleaning cloth and extra battery.
The back of the case offers a hook for attaching the unit to a bag, and a loop for attaching it to a belt. The unit features two buttons, one on top and one on its side.

The button on top is to power the device on and fire and it is easy to engage. The power button is held down to offer a variety of ranges while sweeping across targets.
The mode control button is located on the side and requires more effort to engage so it will not be pressed accidentally. The user has the option to choose between seven different aiming reticules, with shapes varying from a cross to a diamond and many combinations of the two.
Features
The Leupold GX-1i includes the typical features found on line-of-sight devices, not including OLED displays. Such features include:
PinHunter: ensures the unit will lock on to the desired target instead of objects behind it.
Prism Lock: emits a beeping sound when acquiring the target and freezes the distance on the display.
Scanning mode: allows the user to determine distances to multiple targets while panning across a landscape.
Fog mode: increases accuracy even in foggy or rainy conditions.
Digitally Enhanced Accuracy: provides faster more precise ranging against a number of backgrounds.
Low Glare
Scratch Resistance
Weatherproof Construction
Yards or Meters Display
6x magnification
Obtaining Readings
Leupold claims the GX-1i can range 400 yards to a pin and 800 yards to a reflective prism under ideal conditions. At up to 200 yards the unit performs well, between 200 and 300 yards it may continue to perform well. Closer to 300 yards the device looses accuracy.
Cost/Value
The Leupold GX-1i can be purchased for less than $300, making it one of the less expensive rangefinder models. For its price it offers Prism Lock, PinHunter, scanning, weatherproof construction and a number of other features. Compared to competing models the unit is priced well below those with similar features.
Leupold GX-1i Review – Final Thoughts
As far as rangefinders that are appropriate for tournament use, the Leupold GX-1i provides a number of features for an exceptional price. Hopefully this Leupold GX-1i review can help those interested in the device to make a solid decision when comparing it to other models. >>> Click Here for Pricing, Pictures and Reviews on Amazon.com